Cliff Can Help with Your Adobe & Microsoft Software Training
You can't afford to spend hours on something a co-worker or competitor does in minutes.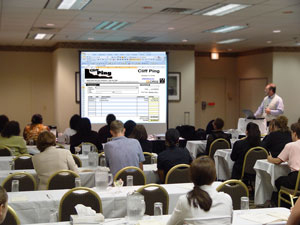 The average software user can spend at least half of their billable time trying to figure out how to make the software work.
Here are three amazing facts from a Gartner
Research study that should not be ignored.
Under-trained users will cost five times more to support
than a well-trained user.
Under-trained users can take three to six times longer than trained
users to complete the same amount of work.
For every hour of user training an IT professional saves at least
five hours of lost user productivity.
The Gartner study proves that wasted time by untrained users is lost money.
My solution is to effectively train your users.
I show how to save time by demonstrating faster and more efficient ways to use your Adobe and Microsoft software.
I teach practical solutions to real world problems.
Let me fill in those knowledge gaps you have in the software that you have been under utilizing for years.
You can choose from one of my standard seminars, or have a training session tailored to suit your needs and knowledge level.
Beginning users, intermediate users and advanced users let me make your job easier by showing you how to get the most from your Microsoft Office and Adobe graphics software.
Get the knowledge you need to get the results you want.
Training classes available in: 

Microsoft Excel
Microsoft PowerPoint
Microsoft Word
Microsoft Outlook
Microsoft VBA Intro
Adobe InDesign
Adobe Acrobat
Adobe Photoshop
WordPress
To start the process,
send Cliff Ping an e-mail at: CliffCanHelp@gmail.com