Retouching Service
Photo retouching can bring back your treasured family photos.
We take pictures to preserve people, events, and places in our lives and each of these pictures tells a story.
Family photographs are your links to the past. Unfortunately, some pictures
have not stood up to time very well.
These problems and many more can be repaired by photo retouching.
If photo retouching is needed to bring a family photo back to life, I can help
restore those precious memories. I use Photoshop for digital image repair.
Retouching is hard – It's Not Magic
You have seen the commercials for a few software giants that make it seem
like photo restoration is easy.
The repair process is not as easy as they advertise and the software takes time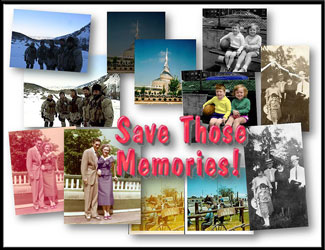 to master. The photo retouching process requires technique, patience, and time.
Digital professionals can repair many of the common flaws with minimal effort. These kinds of problems include: image too dark, image too light, image has slight color cast, minor tears, spots, cracks, writing with a pen, and scratches.
More skill and time is required to repair photo flaws like water stains, missing photo parts, faded color images, faded Polaroid images, removal of unwanted items, and color correction.
Ready to start or for more information you can
send Cliff an e-mail at cliffcanhelp@gmail.com