Cliff Ping Can Help
Cliff Ping offers services in website design, graphic design, and computer software training. 
Cliff's 30-years of computer savvy and 14-years' experience of running a small business allows him to use his graphic arts background and today's technology to market his client's products on the Web.
For more than 20-years, Cliff Ping has been doing consulting and graphics work for advertising agencies, printers, speakers, sales people, large format printers, on-demand printers, small businesses, and seminar companies.
Cliff has been a technical software trainer for 15-years, teaching more than 65,000 adults in more than 1,800 seminars throughout the US and Canada.
Cliff trains business professionals from entry level to the top management on how to better use their software, specializing in Adobe (Photoshop, Acrobat, InDesign), WordPress, Design Essentials, and Microsoft (Excel, PowerPoint, Outlook, Word) products.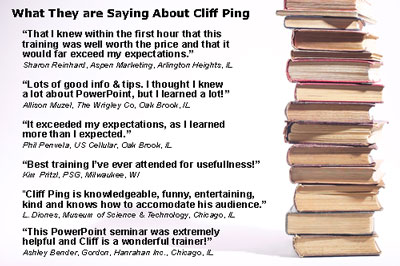 Cliff Ping does this training by going to their respective cities. He has conducted seminars for schools and companies such as Disney, Molson, Hitachi, Heineken, VMI, U of Texas Dallas, Rockhurst University, University of Missouri, U.S. Marine Corp., BNSF Railroad, US Census Bureau, National Seminars, Cal Tech, and Lockheed Martin.
In addition to training, think of Cliff as your graphics and marketing specialist. Tell him what you need. Send him what you got. Get what you want. 
Cliff Ping makes tech understandable.
Under promise over deliver, Cliff gets the job done.
Contact Cliff Ping at CliffCanHelp@gmail.com